About our company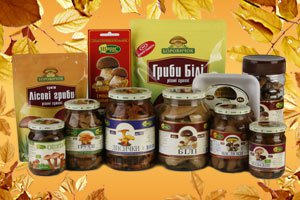 Discont ltd., has been working since 1995, constantly improving and developing. The main activity of our company is the production of marinated, frozen and dried mushrooms, fruit and vegetable products. We offer marinated, sterilized, marinated in sunflower oil, dried and frozen forest mushrooms collected in ecologically clean regions of Ukraine. The basis of our assortment is porcini, chanterelles (cantharellus cibarius) also we produce butter mushrooms (suillus luteus), honey fungus (armillariella mellea), laktarius resimus, badius boletus (Xerocomus badius) and forest berries: cranberries, blackberries, bilberries, blueberries, which are gathered and selected carefully to satisfy our customer.
We are proud of our industrial capacities, which are situated in Berezan city in Kyivskaya region, in particular our classic recipe without dyes, conservants, flavor enhancers and other chemical elements that could be used to facilitate conservation process. Our production designed with the usage of traditional technologies and recipes applied for natural organic products conservation.
Our trade mark "Charme" exist on the food market since 1995. During this period we took part in many exhibitions such as "Green week" Berlin, international agricultural fairs: "Mushroom industry 2006", "Ukrainian products", "Culinary art festival" and other. In 2006 our brand was rated as most effective according to the Ukrainian rate program "Brand's Guard". International academic rating of popularity and quality "Gold Fortune" recognized TM "Charme" as laureate in nomination "Best Ukrainian Products".
We have stable, professional work team, our own accredited laboratory, production certified in the UkrSEPRO system, wide sales network in Ukraine and abroad.
We work with all big retail networks as "METRO Cash&Carry", "Ashan", "Amstor" "Veluka Kushenya", "BILLA", "SILPO", "FURSHET" etc., which are situated in all big provinces of Ukraine. Besides since 1999 we have been exporting our products to Israel, USA, Canada, France, Australia and other countries.
We are always open to new, interesting ideas and co-operation!
Don't hesitate to contact us, our professionals will gladly help you and answer all your questions.